LoungeZotica 3000 Signs With Bongo Boy Records And Their Prelude Single From Their Studio Album MARTIAN 9 Drops With The Same Title On Friday October 5th 2018.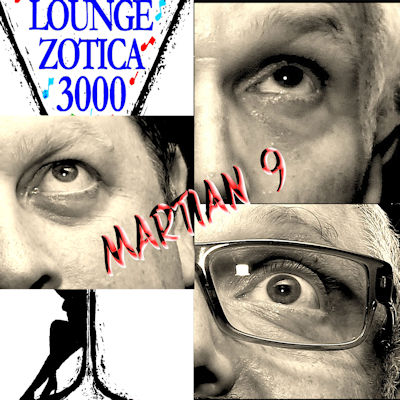 Email: info@bongoboyrecords.com
Website: http://bongoboyrecords.com/loungezotica3000/

New Jersey, USA

In late 2018 the band had an opportunity to sign with Bongo Boy Records. This inspired the group to present original music influenced by their current repertoire. Within two months Guitarist/Composer Ed Littman wrote 8 original compositions to add to the four classics for the upcoming album release.
A particular Bassist Art Zo & Drummer Andy O'Neill effectuate the sound, vibe, finesse & chemistry that is required by these challenging yet memorable new tracks.

M A R T I A N 9 * T H E * S I N G L E * 10.5.18
M A R T I A N 9 * T H E * A L B U M * 11.2.18

1. ThunderWear
2. Quiridio Para Mi
3. Shot In The Dark
4. Slow Corner
5. Good Vibrations
6. Leopard Skin
7. The Good The Bad And The Ugly
8. Ignite
9. Shira
10. Martian 9
11. The Secret
12. The Munsters

From the start of LoungeZotica 3000 in mid 2016 there was a consistent goal to present an instrumental trio that had class, style, attitude, & vibe with a repertoire that crosses many genres. LoungeZotica 3000 has an extensive song list that is singularly unique, but at the same time plurally familiar. The trio infuses styles of late 50's/ 60's & beyond. Exotica, Lounge, Spaghetti Western, Surf, Pop/Rock goes Jazz, TV / Movie themes.

LoungeZotica 3000 has 2 of the new tracks featured on Bongo Boy Records Gnarly Wave Volume Three; The Surf Album by Various Artists which dropped on 8.17.18 worldwide. Skope Magazine wrote these music reviews for "Ignite" and "ThunderWear": "LoungeZotica 3000 goes for a noir-like exploration. The jazziness of the track works to its advantage, giving it a thoughtful quality. Guitar playing has a limberness to it while the whole of the piece feels so vibrant. Their second track gets a bit of attitude infused into "Thunderwear". Flexible grooves reign supreme while the track has a spy-like quality to it. Nearly cinematic at times, the way the piece explores such a wide swath of territory feels beautiful."

LoungeZotica 3000
Andy O'Neill- Drums
Ed Littman- Guitar
Art Zo- Bass


Produced, Recorded, Mixed, & Mastered by Ed Littman at Ed Littman Mastering http://EdLittmanMastering.com
Melchior DiGiacomo- photographer
Cover Design- Ed Littman
Record label- Bongo Boy Records
Website: http://www.loungezotica3000.com/
https://bongoboyrecords.com/loungezotica3000/

MARTIAN 9 The Single drops on 10.5.18 (Download).
MARTIAN 9 The Full Length Studio Album drops on 11.2.18.
Both releases will be available on all major digital outlets like iTunes, Amazon, KKBox, and many others Worldwide.






MusicDish*China Song Blast
Promote Your Music Single In China
| | | |
| --- | --- | --- |
| | News Headlines | |

Get your music news covered...
Have your press release written
by the pros at Mi2N
| | | |
| --- | --- | --- |
| | Articles | |