Female Filmmaking Pair Win Music Video Award In Best Shorts Film Competition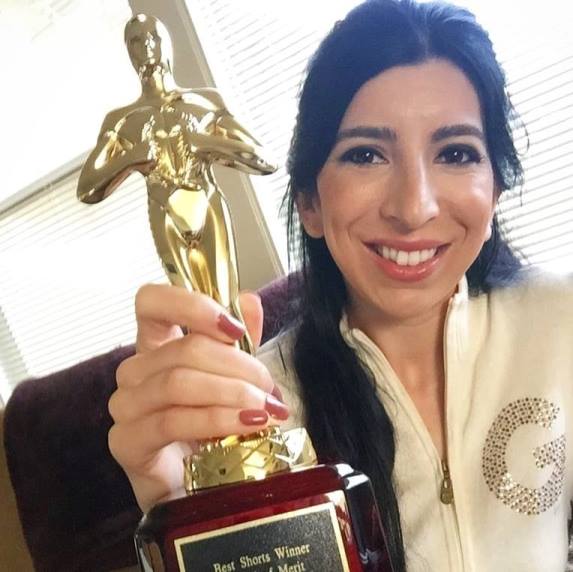 Email: info@katiegaribaldi.com
Website: http://www.katiegaribaldi.com
Music: http://www.youtube.com/katiegaribaldi
Independent roots music artist Katie Garibaldi of San Francisco, CA and film director and photographer Anna Haas of Nashville, TN have again proven to be an award-winning combining force. The female filmmaking duo has won a prestigious Award of Merit from The Best Shorts Film Competition. The award was given for Garibaldi's Christmas themed music video "Unhappy Holiday," which was released in December 2017 to accompany the singer/songwriter's original holiday album release Home Sweet Christmas. "Unhappy Holiday" features a plentiful supply of colorful holiday visuals with a unique story while highlighting Garibaldi's catchy blues-infused country ballad.

"Unhappy Holiday" is Garibaldi and Haas' second award-winning joint venture, the first being multi-accolade championing hit "Delightful," which has been making its way across the film festival circuit since its 2016 release, continuing to screen internationally, and has won upwards of 45 awards, including a Best Shorts Film Competition award in 2017.

"'Unhappy Holiday' is obviously a Christmas song, but I wrote this album with the hopes that people could enjoy these songs throughout the whole year," explains Katie Garibaldi. "I'm so thrilled to win this award from Best Shorts to keep the spirit of the holidays going, even now in the summertime! I love that people are responding to this video because Anna [Haas], the whole cast and crew, and I put a lot of work into it and I'm grateful to see the work shine with this honor."

The Best Shorts Competition recognizes film, television, videography and new media professionals who demonstrate exceptional achievement in craft and creativity, and those who produce standout entertainment or contribute to profound social change. Entries are judged by highly qualified professionals in the film and television industry. Information about Best Shorts and a list of recent winners can be found at www.BestShorts.net.

In winning a Best Shorts Award, Garibaldi and Haas join the ranks of other high-profile winners of this internationally respected award including The Weinstein Company for Market Hours, Disney Interactive for Vinlymation: A Love Story and Oscar winning production Mr. Hublot from Laurent Witz from Luxembourg. Rick Prickett, who chairs The Best Shorts Competition, had this to say about the latest winners, "Best Shorts is not an easy award to win. Entries are received from around the world from powerhouse companies to remarkable new talent. The Best Shorts Competition helps set the standard for craft and creativity. The judges were pleased with the exceptional high quality of entries. The goal of Best Shorts is to help winners achieve the recognition they deserve."

For more information visit Katie Garibaldi on social media at YouTube.com/katiegaribaldi, facebook.com/katiegaribaldimusic, twitter.com/katiegaribaldi, and instagram.com/katiegaribaldi, or visit her website at www.katiegaribaldi.com.



| | | |
| --- | --- | --- |
| | News Headlines | |

Get your music news covered...
Have your press release written
by the pros at Mi2N
| | | |
| --- | --- | --- |
| | Articles | |