Lifelong Friends Collaborate On Hot New Album 'ILLusions'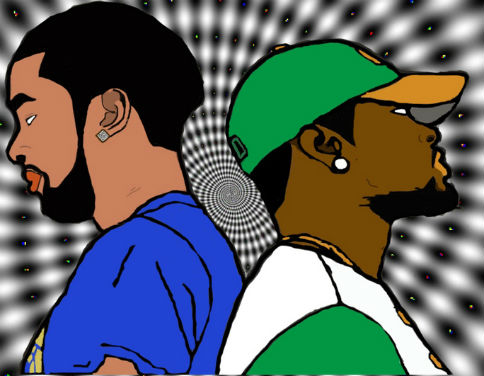 CHICAGO, IL – What started out as a budding friendship in middle school between two young boys from Chicago who loved hip-hop has grown into one of the hottest new collaborations of today's music scene.


Artists KBlack and King Dez are two individuals who have been making music professionally for about 10 years, though their roots in music go back further than that. In middle school the two were trying to navigate the awkward years of being teenagers when the both discovered that they shared a love for the same tastes in music … and girls. KBlack was the first to start experimenting with rap, and when King Dez started to experiment with music a year later the idea of working together just clicked.


"It started out with us having the same taste in females and just always trying to get females around when we were partying," King Dez said. "We were pretty much the most popular kids. After graduation we just kept doing things together and we've been inseparable ever since. Our connection and bond is a brotherhood. What started out as someone that I always hung out with eventually became more."


Their most recent collaboration is a full album called "ILLusions." It features 12 songs – six of them full collaborations, with three more apiece showcasing their individual talents. According to KBlack, it's an album that not only explores various scenarios in their lives, but also showcases the versatile sound and style that they present.


"We want to be known for telling it like it is, but at the same time we want people to know that it's OK to express yourself," KBlack said. "Have fun and don't get too caught up in what everybody else thinks. The theme of the album is basically showcasing different scenarios in our lives that we've overcome, in a way that pretty much brings two different genres together through party and rap."


King Dez added that the album embraces a lifestyle and vibe that is very true to their personalities – that of letting loose and having fun. While he nods to lyrics that have depth and are somewhat conscientious, he said the overall feel of the album is very upbeat and perfect for parties and clubs.


"I'm the type of character who is always living in the moment," he said. "I'm living for today and trying to have fun. Some might even say that I'm an overly positive person. Even in tough situations I'm going to keep working and pushing to get to where we want to be. We're always trying to overcome circumstances while having fun and partying. That's what it's all about."


The first single off the album – entitled "Project X/Party" – is the perfect example of the type of vibe King Dez is talking about. It's a song that mixes pop, rock and rap sounds over the top of an EDM beat. King Dez said it's a party track that will definitely get people moving and features a lot of energy. It's a song that the two know will help to put them on the map and which serves as a notice to fans worldwide that they're here and they're ready to leave their mark on the industry.


"Get on this new wave," KBlack said. "It's coming and it won't stop."


"ILLusions" is on Spotify, iTunes, Google Play, Amazon, Pandora, Deezer, YouTube, Microsoft Groove, ClaroMusica, Saavn and MediaNet. Just search " ILLusions Kblack & King Dez ".


To listen to KBlack and King Dez's music or to follow them on social media, please visit the following links:


KBlack:


www.twitter.com/officialkblack
www.instagram.com/officialkblack
https://www.facebook.com/itskblack
Snapchat: itskalileo


King Dez:


https://twitter.com/itsdrockstar
https://www.instagram.com/king_dez_key/
https://www.facebook.com/dezkey
Snapchat: D_rockstar



https://soundcloud.com/user-804620217/sets/illusion
https://itunes.apple.com/us/album/illusions/id1287825448
https://tidal.com/album/79040096