Versatile Mafia Gears Up For New Single Release After "Visionaires" Success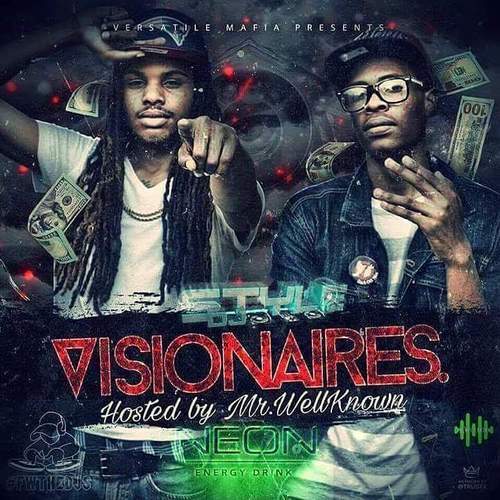 LOS ANGELES, CA – Versatile Mafia brings more than just versatility to the table when it comes to their music. The performance group consists of two extremely talented artists, Optimistic Kieth and Deelyrik Tha Arsonizt. The duo has set out to grace the world with their infectious sound, as they continuously conceptualize their unique style through song. After Deelyrik came home from college, he connected with Optimistic Kieth, who was vigorously promoting parties for business. Both artists had such drive to make a musical imprint on the world, so they combined forces to do just that.


Over the course of four years, Versatile Mafia never let a day go by were they weren't perfecting their craft, both as a group and as individuals. Every artist has a backstory as to why they got started, which in turn keeps them driven and focused day to day. "Music has always been a passion of mine," said Optimistic Kieth. "When I wake up, it's just what I end up breathing to do." For Deelyrik, the fascination with music has always been a key motivator. "For me, I was always very passionate. This is something that I am. I can't even go a day without listening to a song, which led me to create my own songs," said Deelyrik. It's safe to say these artists don't waste any time when it comes to sharing their musical vision and artistry with their fans.



On the topic of Versatile Mafia's music making, the pair is fresh off the release of their hit project, "Visionaires". The mixtape has already generated a ton of buzz in the rap community, which further inspires the artists to push forth with all the music to come. "'Visionaires' is very unorthodox and versatile," said Optimistic Kieth. "We're bringing this new conscious sound. It's not about where you are at the moment, it's about where you're going. You always can have a vision, and it's good to be a visionaire." Just as these artists started out with a vision for their career, they are utilizing their platform to encourage fans all over to do the same. With their rich, hip-hop sound, Versatile Mafia is committed to sharing their vision with the world.


Both Deelyrik and Optimistic Kieth are already prepping for their upcoming release of their new single. As they plan to premiere the single on WorldStar HipHop, the two are currently packaging up the visuals. "We're going straight to the club with this one. It's going to be a worldwide jingle. Good vibe, good feeling… stepping out on Friday night, ready for a good time," said Deelyrik. If the new single is anything like "Visionaires", it's sure to be an instant hit.



LISTEN TO:
"Visionaires"
https://spinrilla.com/mixtapes/dj-bankroll-visionaires-hosted-by-mr-wellknown
https://mxtpz.me/a/116698


"New Shit"
https://play.google.com/store/music/album/Optimistic_Kieth_New_Shit?id=Bhto4rkd2u3oyxe5j672qnxv7fe&hl=en

"Undeniable"
https://play.google.com/store/music/album/Deelyrik_Undeniable_Music_IV?id=Bmi3v32ku2hakqkacfb4fkbezyu&hl=en



MAKE SURE TO CONNECT WITH VERSATILE MAFIA ON SOCIAL MEDIA:
https://instagram.com/versatilemafia/
https://twitter.com/versatile_mafia

Optimistic Kieth:
https://twitter.com/optimistickieth
https://instagram.com/optimistic_kieth/
snapchat: optimistickieth


Deelyrik Tha Arsonizt
https://mobile.twitter.com/deelyrik
https://instagram.com/deelyrik/
Snapchat: Deelyrik