Young UK Artist Sets Sights On Becoming One Of Music Industry's Hottest New Stars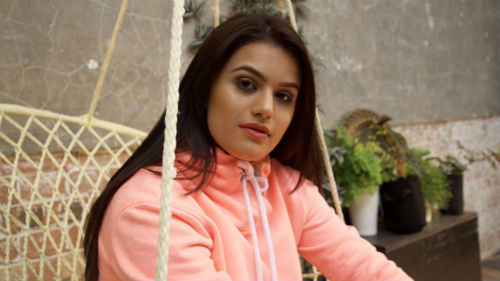 LONDON, UK – If you really love music, then inspiration often comes to you at the most unexpected times.


That's been the case for Esha Maria, a 17-year-old hip-hop and pop artist from the United Kingdom whose new single "Handsome" is grabbing the attention of fans and music execs alike. It's a single that comes on the heels of an Instagram campaign that has featured multiple covers of songs where more than 14,000 followers have fallen in love with. This wave of success is one that she finds refreshing, given her passion for music. And the early response she's getting for "Handsome" is doubly encouraging considering that the inspiration for the song came while on her lunch break.


"I was sitting outside with some friends looking at my outfit and comparing it to theirs," she said. "They all had their makeup done and their hair done and were wearing girly outfits and I realized that the majority of my outfit was from the guy's section. I thought to myself, 'I guess I'm handsome then.' And then I realized that could be a cool song. For some people handsome might mean conceited, but the message I'm trying to send is that you can genuinely wear whatever you want and it doesn't matter as long as you feel comfortable with yourself."


Though she realizes she's young and just getting her career started as a professional musician, she hopes that her music can strike a chord with listeners of all ages. She wants people to be able to relate to her – a young girl who is still trying to find her identity, and who makes music about that journey in ways that other people can relate to.


"Ultimately 'Handsome' is about self-esteem," she said. "I know for a fact that it's a situation that has affected me in certain ways and I know that other people have probably felt this way, too. It doesn't matter how old you are, there's always a point in your life when you haven't gotten everything figured out. And self-confidence is something that everyone needs at some point. I'm talking about it in my music, and I hope when people hear it they can realize that maybe they can talk about it, as well, and find the confidence to speak about their troubles and issues."


It's quite a mature approach to music for one so young, but taken within her life journey it makes sense. Born to Indian parents, she moved to London at the age of 4. She loved dance and always wanted to be a dancer. It wasn't until age 13 that she realized it was the music behind the dancing that she loved so much. And at every stage of her life she always had a song that impacted her or related to a certain feeling she was experiencing at the time. Eventually what started as poetry turned into songwriting, and today has become the start of a promising new career.


"I want people to see me as a regular girl who says what everybody is thinking," she said. "And I want to help other people by showing them that they're not alone."


Esha said "Handsome" is just the first single and that she's already had at work on other music that she hopes to release before the end of the year.


To listen to Esha Maria's music or to follow her on social media, please visit the following links:


https://youtu.be/5VDeOp10eOo
www.Instagram.com/MsEshamaria
www.Twitter.com/EshamMaria
https://www.youtube.com/channel/UC8JgCoHczIp9P_QgskJcGZA
https://soundcloud.com/esha_maria