Where's The Beat? From Ancient Rhythms To Future Grooves For Gizmos, Gadgets And Thingamajigs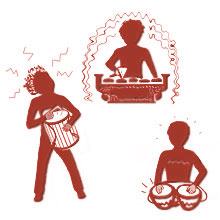 Email: info@ancient-future.com
Website: http://www.ancient-future.com/pr_atfp.html
Where's the Beat?

A. West Africa, Bali, and India, birthplaces of polyrhythm, gamelan, and tala.
B. Within every performer, where musical dreams are made.
C. In a rhythm training manual by Matthew Montfort called Ancient Traditions – Future Possibilities.
D. In the new companion set Ancient Traditions – Future Possibilities: Audio Guide and MIDI Groove Tracks from the Traditions of Africa, Bali, and India.
E. Through world rhythm workshops and Skype study.
F. All of the above.

The Answer

If you answered "all of the above," you are well on your way to finding the beat! Click on the link above to find out how a training manual on the rhythms of Africa, Bali and India can help performers reach their musical dreams and is now bringing these ancient rhythms into the grooves of the future with the release of an audio companion edition for digital audio workstations, sequencers, computers, smartphones, CD players and other gizmos!




MusicDish*China Song Blast
Promote Your Music Single In China
| | | |
| --- | --- | --- |
| | News Headlines | |

Get your music news covered...
Have your press release written
by the pros at Mi2N
| | | |
| --- | --- | --- |
| | Articles | |