Stevie Hawkins Releases New Two-Song Soul/R&B/Blues Single On Emphasis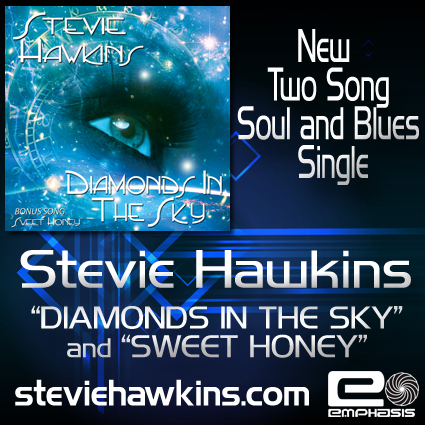 Website: http://www.steviehawkins.com
Music: http://www.emphasisrecords.com/audio/Diamonds_In_The_Sky.mp3
As an artist who we have come to know for expecting the unexpected, Stevie Hawkins remains true to form with his new two-song single release, rendering a passionate modern Soul - R&B music ballad, then entertaining us with a rousing Big Band blues arrangement. Yet, both songs are readily identifiable by Hawkins' signature voice.

'Diamonds In The Sky' is a sensuous, romantic ballad that will transport you to a dimension of love and soothing relaxation either by yourself, or with that very special someone. This is sophisticated Soul/R&B with smooth jazz flavors at its very best.

The ballad vocally captures Hawkins as a sensualist, who fluently phrases, caresses and delivers the lyrics from whispers to impassioned intensity. The song is tastefully seasoned with warm -- layered Fender Rhodes and atmospheric synthesizers by Grammy award-winning master of musical magic, the late George Duke. Interspersed throughout the track are sultry alto saxophone embellishments by Stephan Sechi, and a lilting chromatic harmonica solo by Ralph Rosen, reminiscent of Toots Thielemans or Stevie Wonder. The song glows with vibrancy, feels good, and you will want to listen on repeat.

Hawkins inclusion of the bluesy big band song 'Sweet Honey', is brimming with personality and a delightful treat indeed, reminiscent of Ray Charles or Count Basie. The Stevie Hawkins Blue Shoes Orchestra, a 14 piece horn section and 3 piece rhythm section, constitutes this powerful and fun song as a testament to the range of Hawkins' vocals and music, and is a magnificent addition to this release.

Emphasis CEO Tom Stevens said, "Not only is Stevie a remarkable artist, he is a unique musical force whose work resonates around the globe. The release of his new single will undoubtedly be one of independent music's highlights of 2015."

"Diamonds In The Sky and Sweet Honey were originally written and the basic tracks recorded in 2013. At the time, I viewed the songs as one-off tracks that we put together rather quickly for the purpose of using during my solo performance for the Los Angeles Music Awards voting party and press event at the Whiskey A Go-Go in Hollywood, late September of that year. Being nominated as Urban Artist by the LA Music Awards, I wanted to have a fresh Urban/R&B song, as well as a contrasting bluesy song to sing for my live presentation to the judges and audience at the voting event. The mood recently came upon me to polish up the lyrics, record a new vocals, and complete production of the tunes. We are pleased with the outcome, so we're putting them out there. I'm not chasing a sound or jumping on trends with the release of songs. I'm just doing something that feels fresh to me. In the end, it's all about continuing to strive for greatness, doing the best that I can at what I love to do, which is create music", Hawkins said.  Ultimately, Stevie Hawkins was the recipient of the 2013 Los Angeles Music Awards Urban Artist award.

As an artist who likes to explore various styles of music, Stevie Hawkins proves here he belongs in the elite of Soul/R&B/Blues artists who can have ascendancy over more than one genre. He continues to propel his career and remains a formidable force on today's musical landscape.

If you're a true Stevie Hawkins fan, or if you've just discovered this multi-talented man, you'll want to have 'Diamonds In The Sky' and 'Sweet Honey' as part of your sophisticated Soul/R&B and Big Band Blues music collection!

- Ozzi Roth - Hollywood Report

About The Artist:
Stevie Hawkins is a multiple award-winning artist who has ascended through the ranks as an adept instrumentalist, vocalist, entertainer, songwriter, film composer, teacher, and producer. His ever-present influence inspires musicians and cult fans globally. As a live performer, he electrifies his audience and immediately establishes a relationship with them during his shows.

As a sideman and session drummer, he is known for his chameleon-like adaptability to envision and perform avant-garde conceptions across multiple genres of music. That is supported by playing drums in specialty realms and cross-genres for international and national recording artists, Chuck Berry, John Lee Hooker, Albert King, Percy Sledge, Bertie Higgins, Dan Seals (England Dan & John Ford Coley), Stanley Jordan, The Ink Spots, Rufus Thomas, Johnny Rodriguez, Daryle Singletary, Webb Pierce, Charlie Rich, Brook Benton, Jeff Carson, Ace Cannon "The Godfather of Sax", Al Dotson Jazz Orchestra, Ringling Brothers Circus, comedians Jackie Mason and Roger & Roger, and many others.

Stevie has performed countless shows at many historic venues including, Whisky A Go-Go, Avalon Theater Hollywood, The Orpheum Theater, Capitol Theater, Strand Theater, and Renfro Valley. Stevie continues his life-long pursuit of musical and artistic excellence, demonstrating a tireless commitment to his craft.

Single Credits:

Diamonds In The Sky
(C. Hannon/T.S. Hawkins)

Stevie Hawkins: Vocals - Beat - Strings - Percussion
George Duke: Fender Rhodes - Synth - Synth Bass
Stephan Sechi: Alto Saxophone
Raymond "Guitar" Watts: Electric and Classical Guitars
Ralph Rosen: Harmonica

Sweet Honey
(C. Hannon/T.S. Hawkins)

The Stevie Hawkins Blue Shoes Orchestra

Produced, Engineered and Mixed by Stevie Hawkins
Studios: Wintergreen Studio, Atlanta, GA and Fat Hits, Los Angeles, CA
Mastered by ShhhMedia, Atlanta, GA shhhmedia.net
Cover Art:Dmytro Tolokonov
Basic Tracks Recorded: 2013
Final Production and Mix: 2015

© 2015 Emphasis Records - Hannon Hawkins Music, BMI
All rights are reserved.




MusicDish*China Song Blast
Promote Your Music Single In China
| | | |
| --- | --- | --- |
| | News Headlines | |

Get your music news covered...
Have your press release written
by the pros at Mi2N
| | | |
| --- | --- | --- |
| | Articles | |