Fall In Love With Only On Tuesdays' Fresh New Sound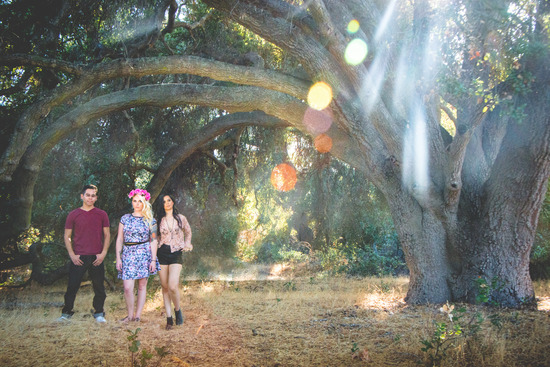 Email: Nicole@LaFamos.com
Website: http://onlyontuesdaysmusic.com/
Music: http://s3.amazonaws.com/lafamos-dpk/system/mp3s/8311/original/dar[...]
Los Angeles, CA – The folk-pop ensemble Only on Tuesdays just released their double single, "Fall" and "Darling Dearest", as a glimpse to their EP debuting next month. The tracks capture innocent vocals following through with flowering symbolism both in its musical and lyrical content. "Fall" and "Darling Dearest" mark the the first releases off their upcoming EP, Break Free; which will be released this coming May. Both tracks are now available on iTunes.

With an ethereal guitar opening, "Fall" sets the tone to a tender acoustic love song composed of meticulous imagery. Lyrically, the track metaphorically compares a deep love to the elements of nature. Front–woman Autumn Skibinski serenades, "…And when I die let me be a tree, take my ashes and bury me, water me so I may grow tall, so I can watch you, so you won't fall," suggesting a love so strong that even something as powerful as death cannot break it. Between Skibinski's beautiful and breathy vocals and the serene melody of the guitar, "Fall" has an organic beauty that is unparalleled. Complimenting "Fall" is the folky upbeat track "Darling Dearest" which sweeps you away with Skibinski's silky vocals. This song is an intricate composition whose message of love and a fundamental necessity of desire are amplified by keenly executed shifts in meter and feel. "Darling Dearest" takes you on a journey to a world of positivity and love serving as a preview into what is to come from this gentle powerhouse.

Growth, love, and support are topics you can expect to hear more about from Only on Tuesdays as Autumn Skibinski has always aligned her musical endeavors in a humanitarian position, working with organizations such as Invisible Children and Love146. Coming from a small town in Wisconsin, she has been playing and booking her own gigs since she was a teenager. Skibinski began to turn her solo project into the Only on Tuesdays you hear now shortly after moving to Los Angeles in 2011. She has since enlisted the talents of Martin Valencia on drums, Kevin Lambertucci on bass, and Tracy Lambertucci and Gabby Casanova on lead and rhythm guitars and background vocals. Finding influences in artists like Ingrid Michaelson and First Aid Kit, Only on Tuesdays crafts beautiful acoustic pop that is as pleasing as it is relaxing. They have played at renowned LA venues such as The Roxy, The Viper Room, Molly Malone's and House of Blues and are currently preparing for their first West Coast tour for this summer in support of their upcoming EP, Break Free.

With sweet acoustic hooks and soothing folk influences, Only on Tuesdays is a breath of fresh air that will grab your attention right away. "Fall" and "Darling Dearest" are now available on iTunes, and if you love what you hear be sure to check out them out at OnlyOnTuesdaysmusic.com!



| | | |
| --- | --- | --- |
| | News Headlines | |

Get your music news covered...
Have your press release written
by the pros at Mi2N
| | | |
| --- | --- | --- |
| | Articles | |