Indie Rockers 'The J.O.B.' To Perform Free Show For The Soldiers Of Fort Lee, Va.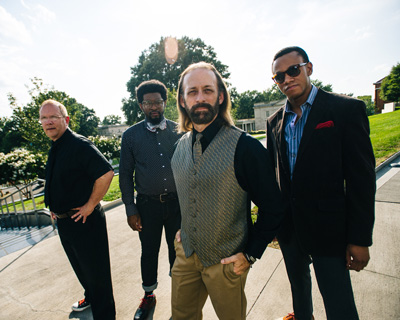 Email: thejimoferrellband@gmail.com
Website: http://www.thejoband.com/
Music: http://thejoband.angelfire.com/Feel.mp3

RICHMOND, VA. - The Top 40 charting rock band 'The J.O.B.' from central Virginia will perform a special Veteran's Day weekend show for the soldiers and civilians of Fort Lee at The Hideaway club. Part of the installation's Morale Welfare & Support (MWR) activity, The Hideaway is a rustic bar & event venue serving the military community on the base. The J.O.B., aka The Jim O'Ferrell Band, is popular with military service men and women. Two band members previously served as Army Rangers and are themselves veterans.

An independent band, The J.O.B. was formed in April 2008 when singer-songwriter Jim O'Ferrell returned home from his final combat deployment to the war in Iraq. With songwriting influenced by wartime experience, Jim teamed up with lead guitar player Jason Crawford and built a band to record and perform his powerful songs. Today, with drummer Antonio James Jr and fellow Ranger veteran & bass player Len Dupilka, 'The J.O.B.' has released 4 albums and their songs are in regular rotation on radio stations nationwide.

Two singles, "Messenger" and "Feel" were released in 2012 six months apart and quickly found a home with college and commercial radio stations across the country. Both songs climbed aggressively up the ranks on adult contemporary radio playlists to spend over 6 months on national Top 40 spin charts (FMQB AC Top 100, 2012-2013).

"We compose together and we perform together," said O'Ferrell. "I think the reason our music stands out is because each of us bring a very different music background to the table, a completely separate set of influences." The J.O.B.'s unique sound has been grouped by fans with such bands as Wilco, The Black Keys, and Dave Matthews Band.

Going back to the recording studio between gigs in November, O'Ferrell plans to have a new record released before the year's end. "Though we have 100% focus on the production when we're in the studio, recording is a casual process for us," he said. "Between creating new songs, regular rehearsals, and performing shows, we try to stay flexible to record what we can when we can."

The band's music can be heard on their official website, many popular social media sites, and on radio stations in the USA and abroad. Albums and individual song tracks are available on their official website and on iTunes, Bandcamp, Amazon, CD Baby, and other online music retailers.

The J.O.B.'s special weekend Veteran's Day show at The Hideaway is a free concert and is open to all. Visit the band's official website at www.thejoband.com for concert details and links to the band's pages on Facebook, Twitter, YouTube and elsewhere on the web.





MusicDish*China Song Blast
Promote Your Music Single In China
| | | |
| --- | --- | --- |
| | News Headlines | |

Get your music news covered...
Have your press release written
by the pros at Mi2N
| | | |
| --- | --- | --- |
| | Articles | |