End Of The Beginning Of The Ancient Future Celebration Sale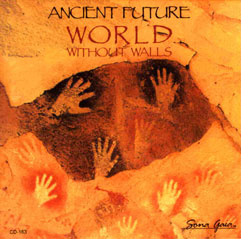 Website: http://www.ancient-future.com/pr_2012_end_of_the_beginning.html
Music: http://www.ancient-future.com/audio/lakshmi.mp3
There's been much ado concerning the end of the current 5125 year cycle of the Mayan Long Count calendar on December 21, 2012. Legend has it that the first of seven Mayan prophecies refers to the last 20 years of this cycle (1992-2012) as the 'The Time of No-Time.' But far from being the end of the world, evidently the end of the 'Time of No-Time' is party time! According to USA TODAY, Sandra Noble of the Foundation for the Advancement of Mesoamerican Studies says, "For the ancient Maya, it was a huge celebration to make it to the end of a whole cycle." What more appropriate way to celebrate and shape the new era to follow than with the music of Ancient Future?

With that in mind, Ancient Future announces the 'End of the Beginning.' Says Ancient Future leader Matthew Montfort, "When I composed 'End of the Beginning' for Ancient Future's 'World Without Walls' release back in 1990, I was thinking of the environmental damage that humans were causing to the planet. The phrase 'beginning of the end' came to mind. But I felt that we needed a reset: an end to a beginning where the environment was thought to be something to be exploited rather than the giver of all life that must be protected. So I wrote this piece to capture a feeling of something ending to create hope for a new beginning. Two decades later, global warming is definitely real, here now, and caused by man. We have come to the moment where we really must choose new ways instead of living in denial. December 21, 2012, should be a festive time to make a New Era's resolution to come up with solutions to our environmental challenges."

To celebrate the composition's coming of age as a perfect fit for the end of this era, from now through December 21, 2012, a complimentary media promo copy of World Without Walls by Ancient Future with special guest tabla master Zakir Hussain will be sent to anyone who spends $51.25 or more on music from the Ancient-Future.Com store.

As its name suggests, World Without Walls by Ancient Future depicts a musical world without borders. This 1990 recording features Ancient Future members Matthew Montfort (guitars), Jim Hurley (violin), Doug McKeehan (keys), and Ian Dogole (percussion), plus special guest performances by world music legend and tabla master Zakir Hussain. The inviting melodies and ingenious use of ethnic textures make World Without Walls one of Ancient Future's most accessible and broadly appealing releases ever.

Long out of print, by 2011 World Without Walls had become a collector's item, with a rare unopened original CD copy going for over $200 on Amazon.com. Then, on June 7, 2011, the exact lineup of Ancient Future that performed on World Without Walls reunited to perform for the first time in over 15 years at Yoshi's San Francisco. To celebrate the reunion, and capitalize on pent up demand, Capitol Records released the first ever digital download version of World Without Walls on iTunes and all major digital retailers. The reissue debuted at #39 on the October 2011 ZMR Airplay Chart, which covers many different radio genres, from Ambient to Folk, Jazz, and World, and at #34 on the CMJ New World Chart in November 2011. In 2012, World Without Walls was nominated by broadcasters worldwide as ZoneMusicReporter's top 5 Best World Albums of 2011.

For those who prefer CDs (the audio quality is much better!), a limited number of rare collectible original 1990 edition copies reconditioned and signed by Ancient Future leader Matthew Montfort are on sale exclusively at Ancient-Future.Com. So while there are no new CD copies in stores, Ancient Future does have a stash of media promo copies left over from the promotion campaign. This sale is a once-in-an-era chance to get ahold of a new CD copy of this rare release free with a music purchase of $51.25 or more at Ancient-Future.Com.

Plus, the four latest releases on Ancient-Future.Com Records are on sale for only $11 each with any other purchase at Ancient-Future.Com. Just purchase any book, CD, or make a donation to support the Archive of Future Ancient Recordings (the fan funded project to produce the eighth Ancient Future release), and have the option of purchasing any of the CDs below for only $11!

Planet Passion by Ancient Future (Ancient-Future.Com AF 2010)

"If the members of the United Nations formed a world-fusion band, it might look and sound a little something like Ancient Future. Planet Passion strives to preserve the world's vast musical heritage via international collaboration: the idea that one protects the old by creating something new." - LEO WEEKLY

Sympathetic Serenade for Scalloped Fretboard Guitar by Matthew Montfort (Ancient-Future.Com EP AF-2012)

In response to the release of this new EP, Matthew Montfort was honored as one of the world's 100 Greatest Acoustic Guitarists.

"A fine work that extends the guitar vocabulary." - MIDWEST RECORD

Seven Serenades for Scalloped Fretboard Guitar by Matthew Montfort (Ancient-Future.Com AF 2008)

"This guitar work is stunning, intricate and wonderfully melodic." - VICTORY REVIEW ACOUSTIC MUSIC MAGAZINE

Sangria by Mariah Parker (Ancient-Future.Com AF 2017)

"An uplifting serene yet passionate musical journey into an ideal world." - LATIN BEAT MAGAZINE

Ancient Future Band Biography

BILLBOARD calls the group "trendsetters" for contributing to the emerging movement known as world fusion music, a term Ancient Future leader Matthew Montfort coined at the band's inception for music that blends musical ideas from many different cultures. Formed in 1978, Ancient Future is the world's first and longest running ensemble dedicated exclusively to the mission of the creation of world fusion music. Their original music is an exhilarating fusion of exciting rhythms and sounds from around the globe that combines contemporary jazz and rock with the irresistible rhythms of African, Balinese, Indian, Middle Eastern and South American percussion, the rich harmonies of Europe, and the beautiful melodies of Asia.

In the years since the initial CD release of World Without Walls, Ancient Future has expanded from its core lineup through collaborations with noted masters of various world music traditions who are now an integral part of what is today more than just a band. Ancient Future has grown to become a large chamber ensemble of more than thirty performers from around the world with over a dozen smaller ensembles within it, enabling Ancient Future to realize its core mission of creating world fusion music.




MusicDish*China Song Blast
Promote Your Music Single In China
| | | |
| --- | --- | --- |
| | News Headlines | |

Get your music news covered...
Have your press release written
by the pros at Mi2N
| | | |
| --- | --- | --- |
| | Articles | |