Midsummer Night Magic CD Has Release June 5th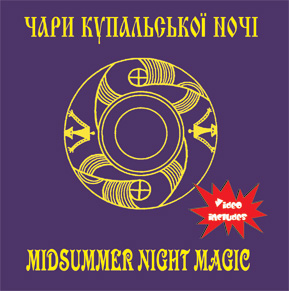 Email: spark@gate.kiev.ua
Website: http://www.sparinsky.kiev.ua
Music: http://www.sparinsky.kiev.ua/Midsummer_Night_Magic_(c)_Alexander_[...]
Would you be willing to expand your knowledge about contemporary Ukrainian World music?

MIDSUMMER NIGHT MAGIC CD has been published June 5th.

This is "two in one" multimedia CD on the history and traditions of both ancient Ukrainian pagans Kupala Day and modern World; authentic folk music and dance, joyful songs and ceremonial games on the history and traditions of Ivan Kupala Day (The Summer Solstice) that combines the use of spontaneous improvising within the Ukrainian tradition in a collage of original compositions, and influenced jazz, electronic, funk and folk music.

Also, given on disk Kupalo.mpg file contains video fragment of theatrical Ukrainian Kupala Day Ceremony.

CD concept created by keyboardist / composer / arranger ALEXANDER SPARINSKY together with famous Ukrainian musicians: Enver Izmailov (tapping guitar), Roman Hrynkiv (bandura), Ihor Chernov (saxophones & bass clarinet), Sergei Khmeliov (percussions), Yarema Shevtchuk (hurdy-gardy & pipe). Performed by the best Ukrainian artists: `Ars Nova' ensemble, Nina Matvienko, `Kralytzia', `Otava', `Yavoryna' & `Ljubystok' Authentic folk bands, `Berehynia' Folk Theatre.



| | | |
| --- | --- | --- |
| | News Headlines | |

Get your music news covered...
Have your press release written
by the pros at Mi2N
| | | |
| --- | --- | --- |
| | Articles | |