Classic Artists Today, Syndicated Radio Show Launches Coool Classic Artists Today On June 1st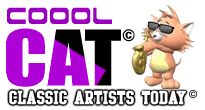 Email: rk@classicartiststoday.com
Website: http://www.cooolcat.com/
Music: http://www.myspace.com/cooolcatradio
Classic Artists Today©, a syndicated radio show launched in 2007, will make available to the radio industry a new syndicated radio show starting June 1st. Coool Classic Artists Today© or Coool CAT© will feature "new" songs from "classic" Soul/R&B/Blues and Smooth Jazz bands and performers. This speciality show is tailored for radio formats that include: Urban Adult Contemporary, Rhythmic Adult Contemporary/Oldies, Classic Hits, Urban Oldies, Adult Album Alternative and Smooth Jazz.

"Our flagship show - Classic Artists Today© is establishing itself as a quality specialty program in the radio industry. The radio listening audience have embraced the concept of wanting to hear new material from the Artists that were a key part of their lives," states R.K. White, managing director of Classic Artists Today, LLC. "Where as The CAT© features new tunes from classic Rock/Pop/Soul bands and performers, Coool CAT© focuses on Soul/R&B/Blues and Smooth Jazz artists," White added. Musicians interviewed for the show during their launch period include: Clarence Clemons, Nardia Michael Walden, Average White Band, Tower of Power, Marcia Ball, Elvin Bishop and Gene "Daddy G" Barge.

After developing the concept for nearly 3 years, the time was right for the launch when Jody Thornton, a radio announcer in Canada, became available to host the program. Thornton states, "I feel it is more pertinent than ever to create programming for radio that exposes music lovers and prospective music buyers to songs and artists that have been forgotten by traditional FM radio. I loved the concept behind Ray's CAT (Classic Artists Today) and decided to host Coool CAT right away when Ray offered me the idea."

Affiliate radio stations carrying Coool CAT© at their launch are based in the following markets: Los Angeles, CA, Atlanta, GA, Greensboro, NC, Oklahoma City, OK, St. Maarten, Caribbean, and Bracknell, United Kingdom. "Classic Artists Today has been a great success in attracting listeners to our station," said John McClung, program director at WRRW-FM, a chart reporting station in the Norfolk, VA market. "When we revamp our scheduling later this Spring, we'll be carrying Coool CAT© too," stated Ed Langhals, WRRW's general manager.

"During the rest of 2009, we will be focusing on adding new radio station Affiliates and securing show sponsorships and financial support," said White. Additional information regarding both shows can be found on the World Wide Web.





MusicDish*China Song Blast
Promote Your Music Single In China
| | | |
| --- | --- | --- |
| | News Headlines | |

Get your music news covered...
Have your press release written
by the pros at Mi2N
| | | |
| --- | --- | --- |
| | Articles | |