| | |
| --- | --- |
| | |
MusicDish Network Headlines | Search News | Submit Your News | RSS
Angela Predhomme releases new holiday music "Holidayolio"
11-29-2017 | Music Releases
Url: http://www.angelapredhomme.com/
Sound: http://youtu.be/1aggxfpBjiU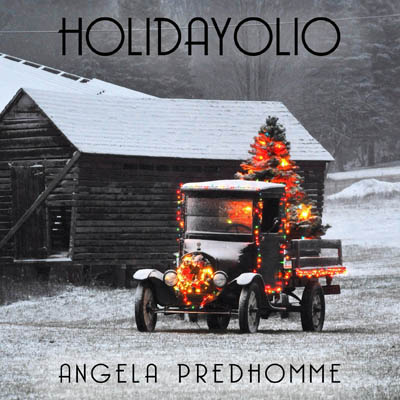 Hamburg, MI, November 30, 2017 – The soulful music of artist / songwriter Angela Predhomme has been heard by millions through the popular TV show "Dance Moms," in addition to a long list of other TV credits. She is happy to announce the release of holiday song collection, "Holidayolio" on December 1, 2017.

Predhomme's new EP features a range of styles, from the lighthearted, catchy "Ring Ring" to the more reflective "Peace on My Little Piece of Earth," and a laid back, jazzy duet with Jamie-Sue Seal called "Holidays Are Better with My Best Girlfriends." The collection also includes, "Oh Christmas," a song that was featured on the hit show, "Here Comes Honey Boo Boo."

Laid back, soulful music with a solid pop sensibility defines Predhomme's musical style. Her songs are available on iTunes, Apple, Spotify, and most streaming services.

Videos of songs from "Holidayolio":
"Ring Ring" https://youtu.be/1aggxfpBjiU
"Peace on My Little Piece of Earth" https://youtu.be/lyywAIIg9Ig

Listen to Predhomme's Music:
iTunes/Apple Music: https://itunes.apple.com/us/artist/angela-predhomme/id302070899?app=music&ign-mpt=uo%3D4
Spotify: https://open.spotify.com/artist/5CpNjhsaN1MNhHNvbyBPRL

Website and social media:
Artist website: angelapredhomme.com
Twitter: http://www.Twitter.com/angelapredhomme
Facebook: http://www.facebook.com/angelapredhomme
YouTube: http://www.youtube.com/angelapredhomme

For interviews and in-studio performances, contact info@angelapredhomme.com

Copyright © 2018 MusicDish, LLC, all rights reserved. All pictures, logos, and articles are registered ® and copyrighted © to their respective owners. Text, graphics, and HTML code are protected by US and International Copyright Laws, and may not be copied, reprinted, published, translated, hosted, or otherwise distributed by any means without explicit permission.